Does makeup, hair, beauty and wellness topics enthral you? Then no doubt you are here to find out about the International Cosmetology Course. It is a new way to enhance beauty treatments. In today's world where everyone is putting efforts to put their best look forward, Cosmetology courses are a boon to upgrade your career.
It is the most sought-after field. Thus, the competition is also tuff. So, to be the best, you need the best institute to learn about Cosmetology. One such institute that can make you the best in Cosmetology is the International Beauty Expert. They help you excel in International Cosmetology Courses.
Everything you need to know about Cosmetology
Many of us think Cosmetology only involves beauty related to skin. However, it also includes the wellness of hair and nail. It is an overall process to enhance a person's look, making them feel confident and beautiful.
The Cosmetology Course is about understanding each person's skin, hair and nail type and giving the best grooming ever. It is a professional course, and you need to complete the criteria and requirements to be a successful person in this field. Hard work and passion for beauty, hair and nail related topics can help you excel in all levels of this course.
Eligibility to get into the Cosmetology field
This course is about enhancing skin, hair and nail care more than just a beautician course. So, there are eligibility criteria to match the course level. Let's have a look at them:
You can opt for a Cosmetology PG diploma course after completing Graduation.
Once you complete the board exams of the 10th and 12th classes, you can try for a certificate course or a Cosmetology diploma course. 
Topics covered in Cosmetology course
Cosmetology includes varied subjects, and to excel in every particular topic of Cosmetology, you need a good focus, determination and interest. Let's check the topics covered in Cosmetology classes:
Beauty therapy
Beauty culture
Professional makeup
Skincare
Hair colouring
Hair straightening
Hairstyling
Haircutting
Aromatherapy and Perfumery
Hair removal techniques such as laser hair removal
Ayurvedic Cosmetology
Manicure
Pedicure
Information about the course and their duration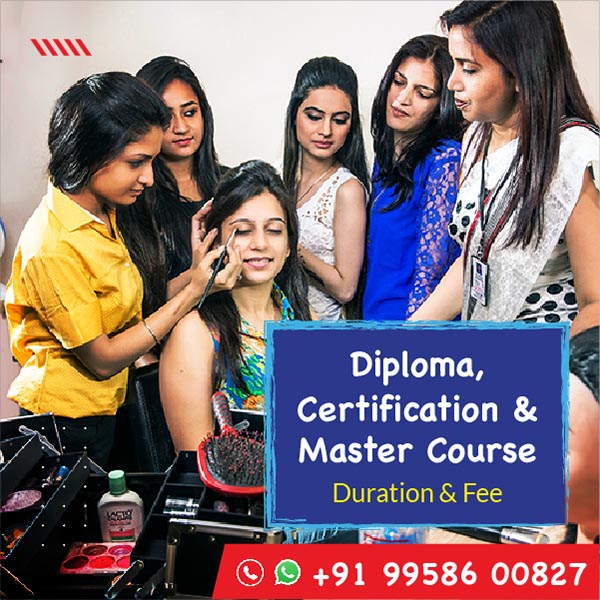 The different cosmetology courses, such as diploma in Cosmetology and degree have a different time duration. Let's learn about them in the below section:
Diploma courses
This course will take up to six months or one year. The different diploma courses are:
Diploma course in makeup
Diploma courses in hairdressing
Diploma courses in Cosmetology
Certificate courses
This course may take three to six months to complete. The different certificate courses are:
Massage therapy
Beauty culture
Herbal therapy and herbal beauty
Master course
It is just one course and will take approx one year to complete: The master course is:
Postgraduate diploma in cosmetology
Fees of Cosmetology course
As discussed earlier, there are different courses in Cosmetology, such as a basic Cosmetology course to a masters degree. So, the fees depend on the type of course, and which institution you choose to complete the course. You can expect the fee starting from Rs. 100,000 to above Rs. 500,000.
FAQs
1) Which is the best institution for International Cosmetology diploma courses?
Some best institutions to study Cosmetology courses are Meribindiya International Academy Noida, Pearl academy, VLCC academy and IBE. Moreover, you can do this course from International Beauty Expert if you want international exposure.
2) What are the job opportunities after completing the course?
Being one of the sought-after courses in India and globally, you get plenty of job opportunities. You can work in high-end resorts and hotels, brand salons, make up artists in the film industry and glamour world. Moreover, if have a degree in Cosmetology, you can work in hospitals and skin clinics.
3) Can I get a job out of India after completing the Cosmetology course/degree?
Yes, you can work out of India with a good salary package. If your main aim is to work abroad, then you can complete the Cosmetology course with International Beauty Expert. They help you with international placements, and their Cosmetology course will expose you to an international environment.
While there are many international Cosmetology courses and institutions to train and guide you, in the end, all that matters is your interest. To achieve success and for best placement in Cosmetology courses, contact International Beauty Expert today!