Makeup allows enhancing the appearance of an individual. It is essential in the fashion, modeling, and acting fields, but there are numerous makeup elements in our daily lives. Makeup courses have emerged as essential for a profession as a makeup artist. And here, we are going to compare Lakme academy with Meribindiya International Academy based on technical expertise, placements, fee structure, courses, and more.
Any individual with a knack for styling, understanding colours, and zeal for creativity can emerge as a makeup artist to why they should not waste any time. Still, pursuing their dream by joining an academy and do the makeup course they want to.
Read This Article: Short Term Job Oriented Courses After 12th
Makeup academy can be the best decision made by the person as you learn new techniques and courses that let you be a professional artist. The makeup methods you learned as a self-learner, combined with these valuable professional lessons, can further enhance your abilities. It will allow you to learn a wider variety of unique makeup techniques and improve some of your personal practices.
In India, a number of academics are rushing to provide the best training for the makeover. Still, the top of the list is occupied by Lakme Makeup academy and Meribindiya International Academy.
Lakme Training Academy Vs. Meribindiya International Academy – Detailed Comparison
This article will compare these top-notch academies and decide which makeup academy suits whom based on their course fee, placements, certification programs, and more.
Read This Article: Beauty Parlour Course in Noida | Best Beautician institute
Lakme Institute is the leading makeup academy chain that is famous for its widespread institutes in Delhi. Lakme is one of the best professional makeup academy in Delhi, withnumerous branches. Some of the most famous ones are Lakme academy Preet Vihar, Lakme Academy Lajpat Nagar, Lakme Academy Janakpuri, and Lakme Academy Dilshad Garden. They are famous for providing hair, skin, makeup, and cosmetology courses.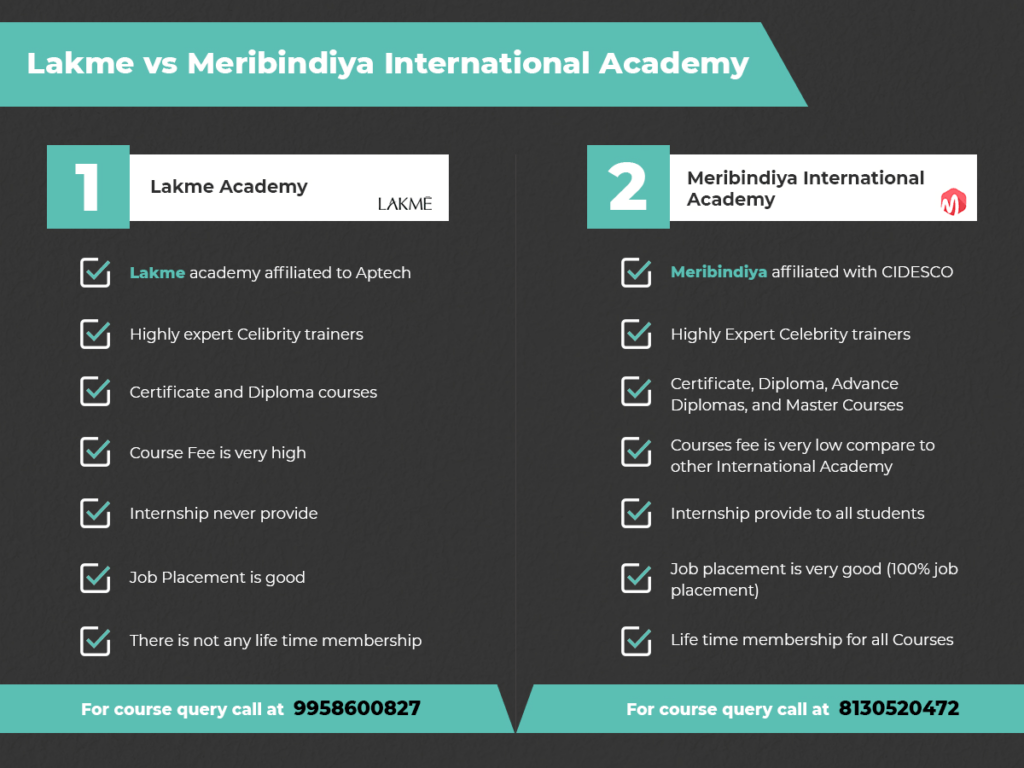 On the other side of the coin, Meribindiya International Academy is situated in Noida. This academy is worldwide famous for its Beauty Parlour classes and courses. Meribindiya Academy also provides a one-stop solution for all makeup needs.
Both academies provide highly expert celebrity trainers who have immense knowledge about the makeup world and are easy to pass on.
Courses Comparison
A Quick List of Lakme Makeup Courses:
Certification Courses
Cosmetology course
Skin Care courses
Courses in Hair Care
Certification in Nail Art
Manicure and Pedicure Courses
Salon Management
Advance Certification in Makeup Courses
Meribindiya International Academy Courses
Meribindiya international academy is affiliated with international CIDESCO (Comite International D'esthetique et de Cosmetology) certification.
Advanced Hair Cutting & Colouring
Advance Diploma in Cosmetology
Certification in Hair Styling
Certification In Nail Art
PG Diploma in Cosmetology
Diploma in Makeup and Hair Styling
Diploma In Skin and Hair
Advance Certification in Makeup Course
Certification in Skin Care
Airbrush Makeup Courses
HD Makeup Courses
Bridal Makeup Courses
All of the Lakme makeup Academy and Meribindiya International Academy courses are approved by NSDC (National Skill Development Corporation).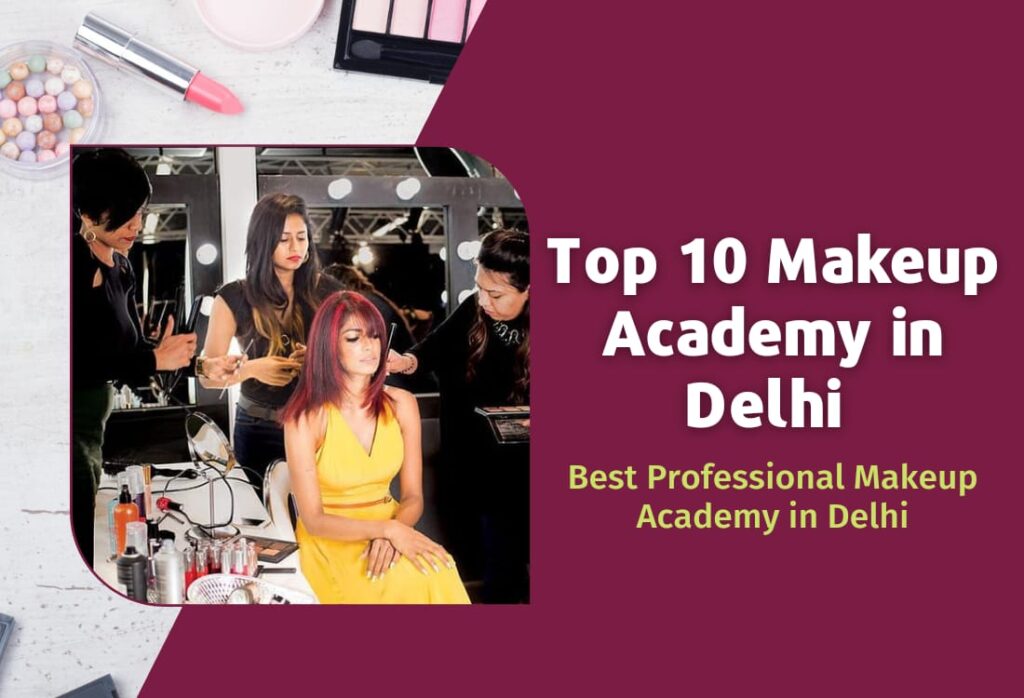 Lakme Academy offers its students with Certification and Short term courses. On the other hand, Meribindiya Academy provides certificate courses, Diplomas, Advanced Diplomas, and Master's courses. The courses offered in Meribindiya international academy and Lakme Academy near me is well recognized worldwide.
Read This Article: Hair Styling Courses for Beginners | Hair Styling Classes
The membership provided by Lakme Training Academy is valid until the courses are done. In Meribindiya International Academy, membership is of a lifetime in all the courses provided by the academy.
Top Beauty Schools in Delhi NCR
Internships Opportunities
Internships give you an understanding of the physical environment the student will be in after they complete their courses in the academy. It is also required for the students to excel in the career they want to pursue. Meribindiya International Academy and Lakme Institute both offer their students more internship opportunities.
Fee Structure
Both Academies have different course fees as it depends upon the types and time taken to complete the course.
Makeup courses at Lakme training academy can cost you around 2 lakh to 3.2 lakh rupees. Whereas, in Meribindiya International Academy, the courses can cost you around 50 thousand to 1 lakh rupees.
Read This Article: Post Graduate Diploma In Cosmetology | Best Course For Highly Paying Career
At Lakme Makeup Academy, you might need to pay a little higher makeup course fee comparing Meribindiya International Academy. Meribindiya International Academy is slightly more affordable for the students as compared to Lakme academy.
Job Placements
If you're a pupil in these academies, job placements after completion of the course are better than most of the academies. Still, if we examine each of these makeup academies, Meribindiya has a better placement opportunity than Lakme Academy due to the wide variety of courses provided by Meribindiya Academy.
Contact Details
Any person who is willing to know more about these makeup academies can go to their websites or can contact them at their respective numbers, which are as follows –
Meribindiya International Academy – +91-8130520472 and can be called at office hours
Lakme Academy phone number – +91-9958600827 and can be called at office hours
You can follow them on social media. Their Instagram handle is given as follows –
Meribindiya International Academy Instagram – @meribindiya
Lakme academy Instagram – @lakmeacademy_aptech
If you want to become an international makeup artist then you have to pursue an international makeup artist course. International Beauty Expert (IBE) is an international beauty academy which offers international makeup artist courses. IBE provides an international internship and international job placement too.
Address: Noida, India
☎ 8595172415
Conclusion
Both Meribindiya International Academy and Lakme Academy are great places to learn and refine your makeup skills to become a professional makeup artist.
Read This Article: Nail Technician Diploma Course | Nail Artist Course
Both academies are professional and provide career-oriented training. Still, Meribindiya International Academy turns out to be a better makeup academy at last because it provides students with a better and wide range of courses.