Eyelashes are a kind of super prop that makes a person feel beautiful and super sexy. No one can take off eyes from those eyes with long eyelashes. Are you passionate about learning eyelash extension techniques and want others to feel beautiful? If yes, then you must take your time in learning lash techniques by joining a certified lash extension course.
Lash extension training is the ultimate step to becoming the best eyelash technician. Searching for lash certification classes near me? Here we will discuss two certified beauty academies providing eyelash extension courses i.e. Meribindiya International Academy & Nail Mantra.
Before that let's have a brief idea about the lash extension training course.
Learnings In Lash Extension Course
Through lash extension, one tries to amplify one's look by increasing the length, thickness, curl of the natural eyelashes with the application of synthetic or natural lash extensions. And in lash extension training you learn all the details about applying, removing, and post-care, and maintaining lash extensions professionally.
Some of the lash learnings are:
Basic understanding of material products, tools, and technologies
Basic tips on maintaining hygiene and safety
Ergonomically workspace arrangement
Basic knowledge of the eye and around the eye
Eyelash patterning
Selection of eyelashes as per individual's look
Lash extensions application techniques
Giving a finishing touch to the lashes
Training and implementation of lashes on a live model
Refilling and renewal of lash extensions
How to style, pattern, curl eyelashes with different designs
Safe removal of lashes
Aftercare tips and follow-ups
How to manage lash consultation
How to create customizable consultation
Customer queries and handling and many more
Know all about Eyelash Extensions Course | Lash Certification Course
The course duration can vary from place to place, based on the quality and depth, and period of the lash course. It also depends on your level of knowledge and experience on lash extension. If you have experience, then the certification course might take a shorter time. If you are new or even experienced, and want to crystalize your lash extension skills, then you should spend more time learning the techniques.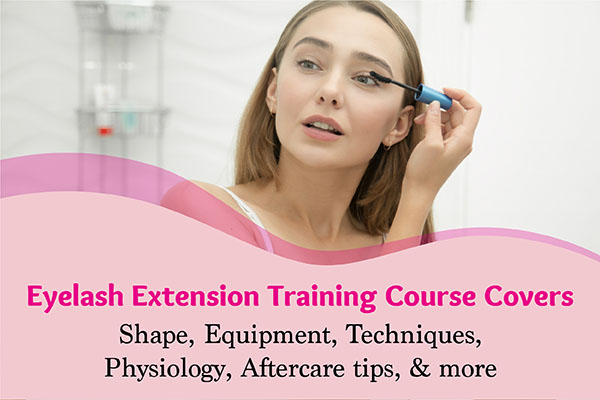 Top Beauty Schools Which Offers Nail Technician Course
Meribindiya International Academy: Meribindiya International Academy is the best beauty school which offers professional eyelash extension courses. This beauty school has won India's best makeup school by glamorous actress Hina Khan and many more awards. This beauty school's fee is less than other beauty schools.
Address: Shop No – 1, 2nd and 3rd Floor, Sunehri Market, near Sector 18, Atta, Sector 27, Noida, Uttar Pradesh 201301
☎ 9582133349
Nail Mantra: Nail Mantra is among the top beauty schools which offers eyelash extension courses in Delhi.
Address: Delhi, India
☎ 9958600827
VLCC Institute: VLCC Institute is a well known beauty schools and it offers the best lash technician courses.
Address: Delhi, India
☎ 9958600827
Orane International Institute: This beauty school is among the top beauty academies which offers best eyelash extension courses in Delhi NCR.
Address: Delhi, India
☎ 9958600827
Lash Extension Course At Nails Mantra Academy
Nails mantra is a place that provides nail extension, hair extension, eyelash extension courses, and other beauty courses and services. Their permanent eyelash extension training covers all the information, skills, and techniques ensuring you get the true skills to become a certified eyelash technician.
You get hands-on training for eyelash extension and other beauty services by experienced professionals.
They have the eyelash course for both beginners and experienced with a course fee of Rs.30000/-. For offers on fees and other information, try to reach them on their website nailsmantra.com, Fb page, or Instagram profile.
The course training period is 30 days with training and practice.
The Nails Mantra salon and academy is in Rajouri Garden, Delhi.
Recommended for You: Best Beauty School For Eyelash Extension Training in India
Eyelash Extension Course At Meribindiya International Academy
Meribindiya is one of the best places to certify yourself with beauty courses. It is a top government-certified beauty school with various certification and diploma beauty courses on beauty, hair, nails, and makeup.
They have a team of highly trained professionals and qualified celebrity makeup artists. They have a structured beauty course curriculum for beginners to advanced courses.
Their eyelash course covers all the required skills and knowledge for beginners to advanced-level students.
The lash course continues for one week and the course fee is Rs.10000/- including the govt recognized lash course certification. For offers and other details, you can reach them through their website Meribindiya.com or on Instagram @meribindiya.
Meribindiya International Academy is in Sector 27, Noida.
If you are searching for lash classes near me, then Meribindiya is the best academy you can think of. If you are not from nearby places, they can help you to get accommodation. You can also join their courses online.
They assure you 100% placement with job-oriented lash training.
A handy guide: How to become an eyelash technician in India?
A Quick Comparison Between Nail Mantra Vs Meribindiya For An Eyelash Extension Course
| | | |
| --- | --- | --- |
| Lash course | Nail Mantra Academy | Meribindiya International Academy |
| Course Level | Beginner to Advanced | Beginner to Advanced |
| Duration | 7 days | 7 days |
| Fees | Rs. 30000/- | Rs. 10000/- |
| Offers | Available | Available |
| Online course | NA | Available |
| Certification | Yes | Yes |
| Contact Details | 9958600827 | 9582133349 |
Also Read: 5 Best Academies In Delhi NCR To Learn Eyelash Extensions Course
Career After Lash Extension
Before opting for the lash course you should be aware of how you can take it as a career.
You can start with part-time work if you are on a full-time job. Gradually you will get to know and learn many things from it. Then you can decide if you are passionate to make it full-time.
You can work as a freelance lash technician and decide your pay.
You can open your independent eyelash extension service.
After a certain time with experience, you can expand your services by offering eyelash extension courses to others.
So, the world of eyelash extension is there, you decide on which boat you want to step as a lash technician.
Get More Info: Eyelash Extension Courses – Become Beauty Expert – A Glamorous & Secure Career
If you want to work as a lash technician at international level then you have to pursue international eyelash extension course. International Beauty Expert (IBE) is an international beauty academy which offers international eyelash extension courses. IBE provides an international internship and international job placement too.
Address: Noida, India
☎ 8595172415
Final thoughts
With increasing awareness for safe and hygiene lash extensions, people prefer a certified lash technician to apply for extensions. Because it is not just about the lashes, but also about your eyes. So make sure you search for lash certification classes before joining any eyelash extension classes and opt accordingly.
And Nails Mantra and Meribindiya International Academy are some of the top players in the niche. If you search for the best lash extension training near me at a reasonable price, then Meribindiya International Academy would be a better choice. If you are looking for lash classes near me with more time duration and practice, Nails mantra would be a better option.
Choose a beauty academy wisely based on your preference and convenience, and make yourself shine as a skilled lash technician.