If you are looking for the best professional makeup academy in Delhi to boost your career in the Beauty and Cosmetology industry, you are at the right place. Here you will find a list of the best makeup artist colleges in Delhi which you can join to get ample job options.
This industry keeps on rising despite economic downfalls or recession. It keeps on scaling great heights throughout the world as each one of us wants to look good to boost our confidence and present ourselves well amongst our peers.
Read This Article: BEST SELF MAKEUP COURSE IN NOIDA | SELF MAKEUP CLASSES FOR BRIDES TO BE
Scroll the list to choose from the Top 5 makeup academy in Delhi for getting enrollment and earn certification by paying an affordable fee to learn from the best!
MeriBindiya, ISO certified beauty school is a one-stop place for all the brides-to-be out there. It is known to offer the best bridal makeup service across Delhi-NCR. They also offer fabulous makeup, hair styling, Mehandi, nails, and makeover for all occasions. It is counted among the best makeup studio academy Delhi that charges around 50 thousand to 1 lakh rupees for giving you proper training by industry experts.
They offer a wide range of courses like
Diploma in Skin and hair Course
Diploma in Makeup and Hairstyling Course
Certification in Cosmetology Course
Short Term Makeup Courses
A post graduate diploma in cosmetology will make you a professional beautician. They will teach you from basic to advanced methods to do best practices in the industry. After the completion of these above-mentioned courses, you will get certified as a international beautician also, there are opportunities to get a better job placement.
Any Course Query, you can Call them — 8130520472 / 9582133349
MeriBindiya International Academy Noida
Shop No – 1, 2nd and 3rd Floor, Sunehri Market, Atta,
Near Sector 18 Metro Station, Sector 27, Noida, Uttar Pradesh 201301
If you are looking for the best professional makeup academy in Delhi, the Lakmé Academy is the top player in the categories of Make-up Institutes.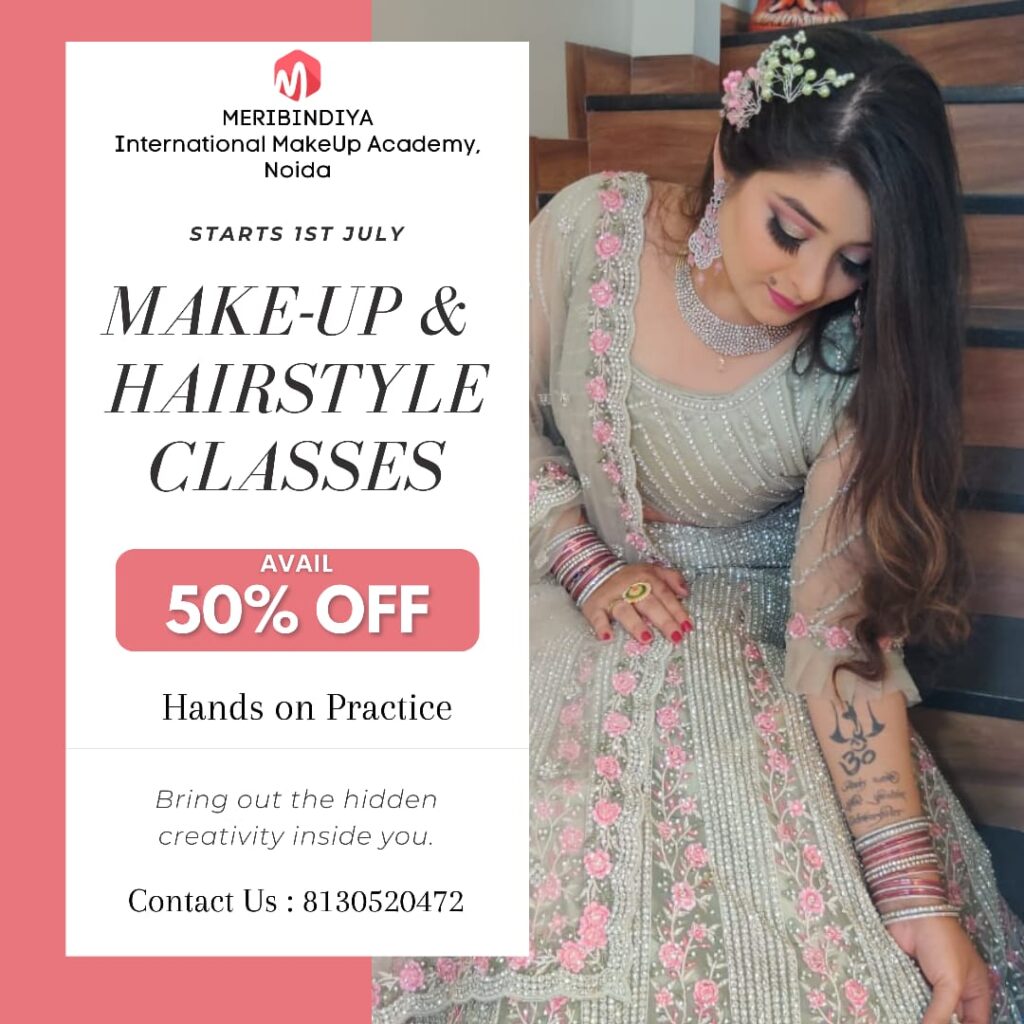 Lakme Academy offers various financial assistance and payment facilities to pay your course fee in several installments. The Lakme makeup course fees in Delhi are reasonable that can goes around 1.50 lakh to 2 lakhs Indian rupees.
Lakme Makeup Courses
Basic Makeup Training
Advanced Certification
Short-term courses to beginners in Nail Art, Spa Therapy, Skin Care, and more.
Duration of the course varies from basic to advanced courses like short-term courses are held between four days and 10 days, basic courses for three months, and advanced courses for six months to 1 year.
Read This Article: How to be a Certified Professional Hairdresser? – Skills, Education, and Opportunities!
You can give a call to the academy to get the best knowledge of Lakme makeup artist course fees in Delhi.
Address: Delhi, India
☎ 9958600827
If you want to pursue your career as a professional makeup artist, then without any doubt VLCC Academy is the right choice. Some of its best facilities are World Class Environment, Latest Training Equipments, State-of-the-Art Infrastructure, Well Qualified and Trained professionals, Hands-on Internships and Dedicated Placement Cell.
Courses offered by VLCC Academy
VLCC Academy is India's largest Beauty and Nutrition Academy and also best professional makeup academy in Delhi with a wide range of specialized and professional courses in:
Beauty & Skin Care
Cosmetology
Spa etc.
You can get your concepts clear in just 3 days with the help of VLCC's Holistic Wellness Program conducted by their expert trainers, nutritionists, therapists, and doctors. VLCC courses will cost you around 4 Lakhs rupees based on the types of certification.
Address: Delhi, India
☎ 9958600827
Orane International School Of Beauty & Wellness is considered to be one of the best makeup colleges in Delhi for its industry-recognized beautician courses.
Read This Article: Highly Paying Career Option in the Beauty Industries
They have the best makeup artist course in Delhi. Their beautician courses vary from short-term to diploma courses and from basic to advanced level at 6+ locations in Delhi.
Makeup Courses offered by Orane ISBW
You can choose a beauty course depending on the time you wish to invest in it. Not only this, they provide Certificate courses in
Hair
Beauty
Makeup
Spa
Cosmetology
Nutrition
If you wish to work abroad, this makeup studio academy Delhi will provide you with beauty certification courses like CIBTAC or CISCO which will help you to earn five to six figures income.
Their professional expertise to trainees will let you put the career in fast forward mode. It is the best place where you can get the best makeover course in Delhi by getting admission for short-term or long-duration courses. The Orane International School fees starts with 50,000 rupees and can go up to 2 lakhs rupees based on the syllabus.
Address: Delhi, India
☎ 9958600827
If you want to go to the best makeup colleges in Delhi, Pearl Academy can deliver you the best out of the best. There is a list of numerous courses that they offer at Pearl Academy in Delhi. Located at Block A A-21/13 Near Shadipur Metro Station, Naraina Industrial Area Phase 1, Phase II, in New Delhi.
Read This Article: Nail Technician Diploma Course | Nail Artist Course
It has various facilities like Hostel facilities of which students can take advantage. The Pearl Academy makeup course fees can go anywhere from 1 lakh to 25 lakh rupees based on the types and duration of the chosen course.
Courses offered by Pearl Academy
This makeup studio academy in Delhi is known to help students meet the needs and demands of the design industry, particularly in the fields of fashion, business, and media.
In Over 30 Disciplines, Pearl Academy Offers
Undergraduate Certification
Postgraduate Certification
Professional development courses
Makeover courses in Delhi
Specifications
The Pearl Academy makeup artist in Delhi course is also specialized in Advertising and Marketing, Accessory Design, Fashion styling / Communication, Animation, Game Design, Journalism, Media and Entertainment Management, image designing, User Experience, and more.
Address: Delhi, India
☎ 9958600827
If you want to work as a professional makeup artist in other countries then you have to pursue an international makeup artist course. International Beauty Expert (IBE) is an international beauty academy which offers international makeup artist courses. IBE provides an international internship and international job placement too.
Address: Noida, India☎ 8595172415
CONCLUSION
So this was the list of the top 5 makeup academy in Delhi. Whether your goal varies from becoming a beautician or hairstylist or a makeup artist, or you want to open your beauty salon, these best makeup artist colleges in Delhi will help you to scale great heights in this industry. You just need to grab their exclusive offers and get started with the best makeup artist course in Delhi.