India is watching new boost in a start-ups since last few years. Many Sectors in industry still offers great opportunity to grow within.
India's Beauty and Wellness sector is currently estimated to be valued in the range of Rupees 100,000 Crore and is forecasted to rise almost 50% to Rs 150,000 Crore in 2023.
As per a study conducted by NSDC, Human Resource requirement in the beauty and wellness domain is poised to rise from 7.39 million in 2017 to 14.27 million in 2023, with the highest demand being in the beauty and salon segment.  
Read This Article: Hair Styling Courses for Beginners | Hair Styling Classes
In Sept 2016 One small plant of business started its journey of growth with 2 Professional Bridal Makeup Artist, 2 Skin & Hair Expert and 1 Mehndi Artist . The Company started giving their services under brand ' Meribindiya'
Today the Company has grown their network all over the Delhi NCR. They offer a doorstep services such as Makeup, Pre Bridal Treatments and Bridal Mehndi at a Reasonable rate. Today Small plant of The Meribindiya became a tree and providing shadow to the 50 Professional Bridal Makeup Artist, 20 skin & hair expert and 20 Professional Mehndi Artist for creating their career with Meribindiya.
As we all know behind every success story there is one person who leads people towards success with his or her vision. Meribindiya also have their Star, Mrs Mahi, the director and founder of Meribindiya.
After struggling to find makeup artist for her friend's wedding makeup Lata decided to solve this issue by starting her own business which will provide professional makeup service at doorstep. Lata an engineer with aim of empowering women through skillful education started this business and written her success story while empowering other women.
Read This Article: How To Start A Beauty Parlour: The Ultimate Guide!
In Fab 2018, Company added one more golden page in its success story as they started Meribindiya International Academy in Noida to provide international level's training and education of Makeup Art in very reasonable fees.
Mrs Lata told that Our academy has trained hundreds of professionals. We try to impart the latest trends and tips to the students through our courses so that they can remain updated that will help them in shaping their careers. We believe in on-the-job training so we allow our students to learn and grow through the internship post completion of the courses.
We have the vision to empower 100,000+ women by the year 2025 by providing them with the opportunity to be highly skilled through our numerous courses and training.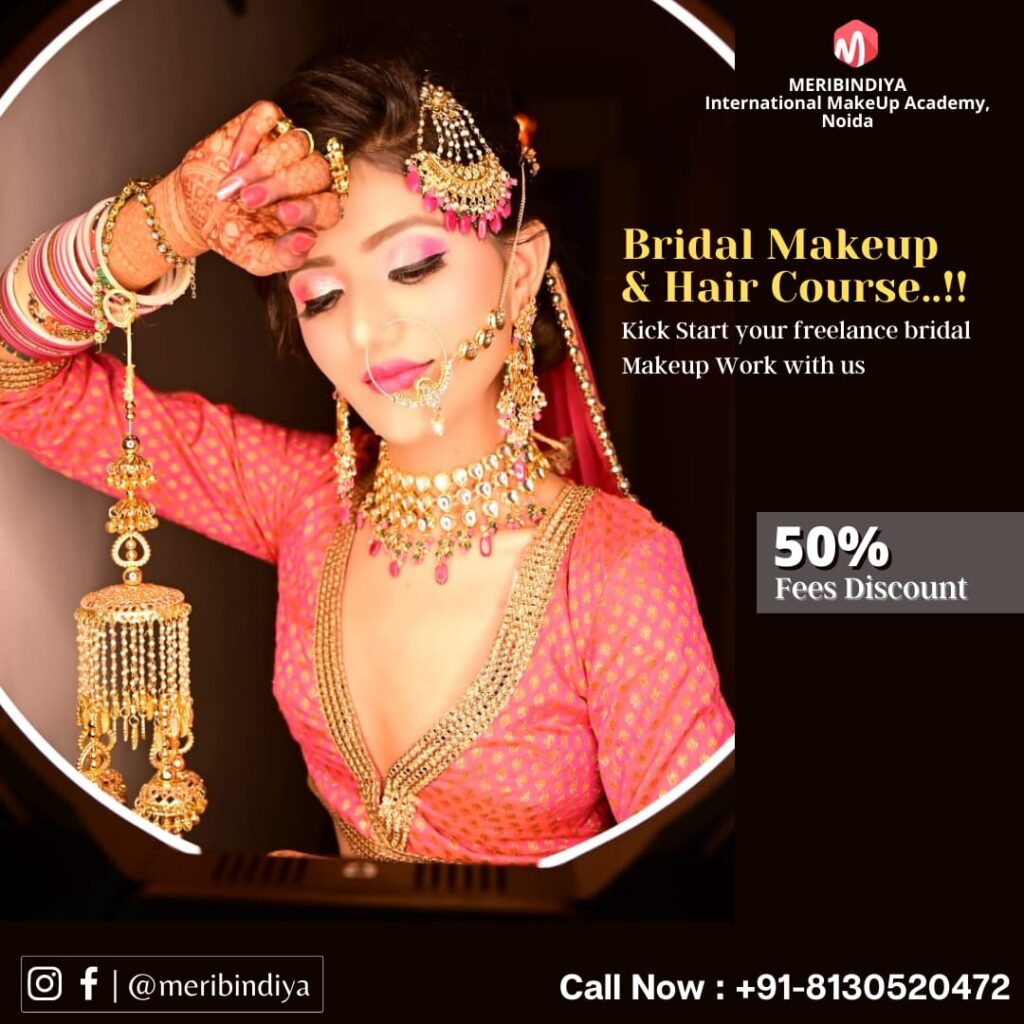 Students who pursue and complete the Meribindiya's Professional Makeup Artist courses enjoys golden opportunity of internship. After doing internship with professional makeup artists they gain high quality experience to take step ahead in their career. Meribindiya International Academy also offer best placements to their students with best possible packages in industry. Now Meribindiya International Academy is India's Top Beauty School.
Meribindiya International Academy is doing great job in Noida so Company is going to open new and advanced branches of an academy across Delhi as well as other big cities in India soon. While growing size of a business, company is also taking care of facilities, updated syllabus as well as professional teachers for the students.
Read This Article: Beauty Parlour Course in Noida | Best Beautician institute
Meribindiya International Academy aims to provide scientific and systematic training to individuals aspiring to pursue a career in Cosmetology. It was established with an impetus to revolutionize the art of Makeup and Beauty in India.
Since its inception, the academy has enabled many students to succeed in Cosmetology..
Why to Choose Meribindiya International Academy?
They offer Affordable Course Fee
Professional experienced Educators
Meribindiya is India's Best International Academy
100% Finance Option available
100% Job Assistance provided
Learn with Earn Facility available for the students
They offers NSDC Approved course
Meribindiya is an ISO Certified Academy.
Small size classes so that everyone gets individual attention.
If you join our courses, you will also get a Lifetime Membership Card of MeriBindiya International Academy.
They also offer you an immediate loan facility.
Here we listed courses offered by Meribindiya International Academy:
Basic to Advance Makeup course
Basic Hair Styling Course
Advance Hair Styling Course
Diploma in Makeup & Hair Styling
Basic to Advance Beauty course
Basic to Advance Hair Course
Certification in Nail Technician course
Diploma in Hairdressing
Advance Diploma in Cosmetology
Post Graduate Diploma in Cosmetology
FOR MORE INFORMATION CONTACT 9582133349 / 8130520472 to get your discount
OR
VISIT Meribindiya International Academy
MeriBindiya International Academy Noida
Office No – 1, 2nd Floor, Sunahri Market Atta, Near Sector 18 Metro Station,
Sector 27, Noida
https://meribindiya.com
You can follow the Meribindiya on its app and also on the Facebook, Twitter, Instagram, LinkedIn and youtube.
RECOMMENDED ARTICLES
How to be a Certified Professional Hairdresser? – Skills, Education, and Opportunities!
How to be a Certified Makeup Artist? – Seek Your Passion into a Career!
Become a certified Nail Technician – Course Details, Admission, Eligibility, Syllabus, Jobs & Salary