Hair Extension is one of the most important parts of hairstyling. It reflects our style statement and personality at the same time. If we talk about its need at the professional level, then we will find the demands of hair experts and hair extension experts growing very rapidly nowadays.
Every kind of art needs a kind of perfection and clarity. We need to take care when we are performing or creating it. Makeup is also an art. You need to understand the client's requirements to make them satisfied. So, if you want to become a certified hair extensions expert and looking for professional or hobby courses in Hair extension for adding distinction in your skill then the following article will guide you for telling authentic hair extension training courses and certification.
What is Hair extension?
Hair extension is the type of real or synthetic hair that has to be attached to your roots for providing length, thickness, and color to your natural hair. Hair extensions are also known as Hair weaves. In the words of famous beauty expert Akriti Kocher," Whether it is soft, romantic waves or poker-straight hair, the extensions can change your hairstyles in an hour or sometimes in a matter of minutes". If we want to change our look without cutting or bleaching our natural hair and locks, hair extensions play a very important role.
If you are residing in the capital of India, Delhi, or NCR and looking for a perfect hair extension training course, Meribindiya International Academy and Nail Mantra will be a great choice for you.
Nails Mantra & Meribindiya International Academy and are not only famous for their beauty services like pre-bridal treatment, Makeup Artist courses, Hairstyling, Skin caring, bridal, and other makeup skills but for its diploma and certificate courses like eyelash extension, nail art designs, and extension or hair extensions too.
Relevant Topic: Best Hair Dressing College in Noida
Here, we will read about the two best hair extensions training and certificate courses in which you can get enrolled and be a trained hair expert.
Nail Mantra vs Meribindiya- Who is the best for Hair Extension Training?
Nail Mantra for Hair Extension Training
Nail Mantra is also a good place for getting hair extensions training but this institute is famous for its Nail art designs and extension courses. Although the institute runs all kinds of extensions courses like hair, eyelashes, and hair for their hair extensions courses provide diploma and certificate courses that you can complete in three months after paying a nominal fee.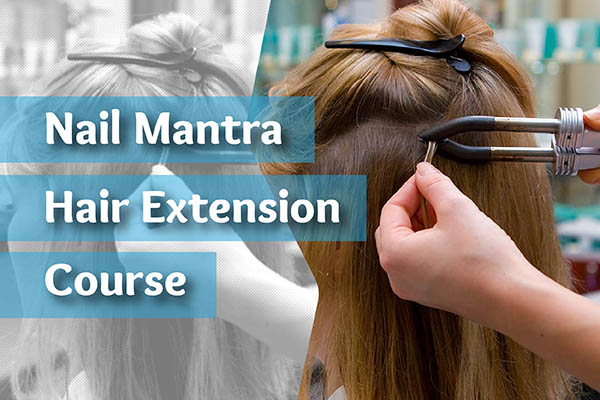 Their hair extensions training courses for beginners provide every technique regarding this. if you get enrolled in these courses, it will add quality to your skills. The expert of the team tries to teach every technique and trick whether you are taking professional or hobby courses.
Must Read: 10+ Best Hair Extension Training Online | Hair Extension Classes Online
Meribindiya International Academy for Hair Courses
Meribindiya is a team of professionals. Every single professional artist uses the tricks, tips, and technology to provide you best service and professional training. Although they run lots of certificate and diploma courses, with special reference to hair extensions courses they have a good package with the expert team that makes you familiar with the field of hairstyles and extensions.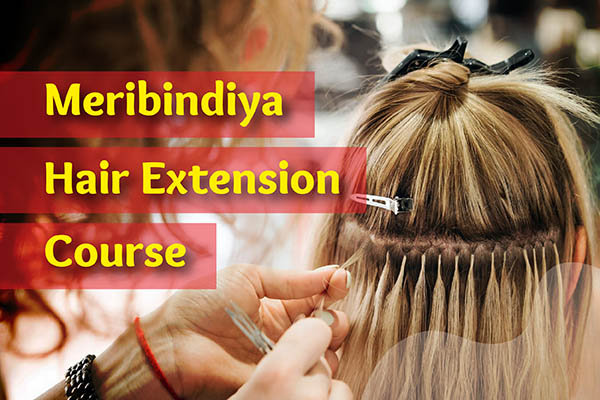 Meribindiya Academy's fee Structure for hair extension courses and certificates is quite reasonable. Any student from any background can take benefit from these courses as after taking Professional training from this international Academy they can get a placement as a hairstylist, fashion show stylist, hair extension expert, instructor, Cosmetologist, and beauty expert.
Meribindiya Academy ensures your placement in the big brands and renowned institutions. VLCC, Lakme, film, and beauty are some industries where you get placement after completing your certificate courses from here.
Another good thing why we should connect with this institute is its membership program that gives lifetime membership to the artist and students who enroll here for learning. Anytime in life, you can rejoin here and learn the new trick and teaches which are in vogue at that time and this makes Meribindiya Academy unique.
In a nutshell, Meribindiya international academy and Nail mantra hair extensions and training courses help candidates to learn tricks and techniques so that they can become famous hairstylists. But being a hairstylist, you should know basic information about hair extensions. So here, we are adding different forms of hair extensions that are part of your courses while taking hair extension training.
Tape-In Hair Extensions
Tape in hair extensions is a very popular extension form and takes four to eight weeks for completing the process. It always protects your crowning glory from any kind of damage as it does not require any heat for installation.
We should take care while combing or brushing while having our extension as it may get damaged by too much styling. Both institutions ensure to train you properly so that you can get the best hair extension certification and become a professional hair service provider.
Fusion Or Pre-Blonded In Hair Extensions
This type of hair extension starts by using heat gum and a safe natural bonding agent process keratin. It needs 3 to 4 months for the proper extension. They are fastened to the roots of the hair and natural strands of hair roots for giving a proper, fuller, and voluminous locks.
Clip-In Hair Extensions
It is a non-permanent form of extension and harmless as it needs no chemical required for installation. You can easily remove it. Their strands come with clips attached to their base for hassle-free installation. In the course, you will learn how to clip hair extensions for managing the hairs properly and take less time to install.
Worth Reading: How to be a Certified Professional Hairdresser? – Skills, Education, and Opportunities!
Which One Is Better For Hair Extensions
In short, if you're looking for the best hair extension academy near me especially when you are in Delhi and NCR, both Meribindiya and Nail Mantra are good as service providers and training courses too. These courses deal with club cutting, freehand, and point cutting tapering thinning and feathering for the hair extensions.
One distinguishing feature of the Meribindiya membership program is that it gives lifetime membership to the artist and students who enroll here for learning. Anytime in life, you can rejoin here and learn the new trending tricks and tips. This is the best part of Meribindiya Academy that makes him different from others.
However, Meribindiya international academy ensures your placement in renowned and well-known institutions. Also, they have international recognition that adds distinction to your certificates. Meribindiya Academy has a variety of options within your range, so as per these qualities and facilities Meribindiya International academy will be a good recommendation for hair extension training.
Check out the List: 20 Best Beauty School For Hair Extension Training in India
Final Thought
Nowadays when the beauty industry is booming by leaps and bounds, demands for experts are increasing undoubtedly. Wearing extensions can save the person from the problems like struggling with falling and thin hair. It gives a quick change to hairstyles without cutting and bleaching the locks. Professionally trained artists or expert hairstylists can change the look in a matter of minutes.
Certification or diploma courses always add a feather to your cap whether it is related to beauty or any other field. Hair extension courses undoubtedly add skills to your performance. Nail Mantra and Meribindiya hair extensions academy have earned a good name and fame in the beauty industry and provide a good array of courses for both professional and personal hairstyling. They have hair extensions courses for beginners too. So, get enrollment in these courses and give wings to your dreams.