Sam and Jas have years of experience in the fashion industry that offers many services in Hair and Makeup. In addition, this academy prepares willing students to be independent in the make-up industry. The aspired students will get exposure to the fashion world and using their brilliant skills, they can reach the sky-high.
With time, the fashion trend has significantly changed and now the demand for the same has tremendously increased. Most of the person wants a glow in their face and a fashionable hairstyle to enhance their personality. This is also one of the factors for the boost in this sector. Moreover, in the wedding season, the bride wants to look stunning and for that, hair and makeup artist is mandatory as they know how to do the bridal makeup without losing the original essence.
Moreover, at the anniversary or other parties, the people want a good look and for that, they rush to the parlor or call the artist. These all examples stated above shows the demand for hair and makeup artist. If you want to step into the platform that reaches the fashion world, then Sam and Jas Hair & Makeup Academy is an ideal stop to become an artist.
Courses Offered By Sam And Jas Academy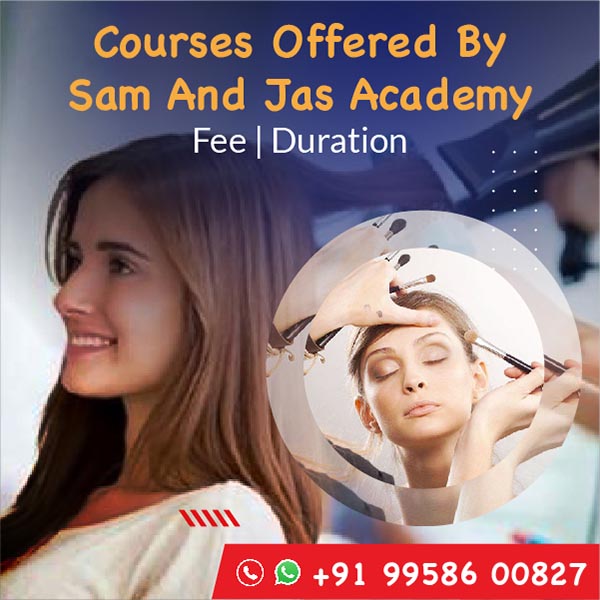 Sam and Jas academy offers comprehensive beauty courses to the students that include, professional makeover, hairstylist, bridal makeup, Tanning remedy, Natural Makeup, and many more.
Pro Makeup Artist Course
If you want to be a part of the red-carpet event, you can go with the Pro Makeup Artist course. Here you will learn about the basics of makeup, types of skin, which fashion accessories to apply on skins, eye makeup, and many more. Sam and Jas academy offers comprehensive pro makeup courses, i.e., from scratch to the trending one.
Moreover, the course will cover every aspect of beauty including face, eyes, lips, etc. Once you complete the course, then you don't have to worry about the job because the fashion demand is so high that you will be dragged by any firm without giving much effort.
What Are The Topics Covered In The Makeup Course?
The session will start from the basic course so that the fresh aspirant can grab the information of makeup, how it's performed, accessories required, types of the face (oily, dry), and many more. Once they complete the basic course, then they can move to the pro courses where they will learn the advanced makeup techniques.
The pro makeup course will enable the students to know about the trending makeup styles, bridal makeup, party makeup, pre-bridal makeup, and many more. So, if you are looking for the Sam and Jas academy near me, then search in your region as you will easily get the one. On the off chance, if you are living on the outskirt of the town, then you can consult the Sam and Jas management authority for the online classes.
Pro Hair Stylist Course
In the fashion industry, hair design is an important part as there are ample hairstyle techniques and as an artist, it is essential for them to judge the style based on the hair. Here, in Sam and Jas Hair Academy, you will get to know everything about the hairstyle, its types, bridal hair Ups, hair padding, hair rolling, and many more.
The course is very diverse, so will get to learn a lot from this academy and the course duration is of 12 weeks. Hence, get Sam and Jas academy address and make your career as a hair artist. This sector is in boom and you will get enormous opportunity to get name and fame.
What are the topics covered in the Hair Style Course?
Sam and Jas Hair Academy is perfect for all kinds of aspirants who are willing to make their career in the beauty sector. The beginners can get enrolled for the Basic courses and here they will learn about the hair types, hairstyles, and how to execute them.
In the professional hairstyle course, you will learn about the advanced form of hairstyling that is applicable to brides and celebrities. The course covers, the blend of hair ups (modern and traditional), Braids & Twists, Trending hairstyles, chignon, and many more. The duration of the course is for 10 weeks. Now, you can assume that in a short time, you can learn a lot.
What Are Sam And Jas Academy Fees For Makeup And Hair Courses?
Well, this might be a haunting question for you and also you were worried about the expenses. It's a natural phenomenon because the rise of inflation affected academics too and most of the academies retain the high course fee. But Sam and Jas have retained the nominal fee for the students so that they can move ahead in their life. The course fee starts from Rs. 4000 and moves to Rs. 25000, the range varies as per the opted course.
Top Hair & Makeup Academy
If we talk about the best beauty institute or makeup academy in India, then Meriabindiya International Academy is number one. Meribindiya International Academy is the best beauty academy in India to make a career in the makeup industry. National and international organizations have rewarded her with India's Best Beauty School Award.
Let me tell you, the certificate of Best Indian Academy by IBE, i.e., International Beauty Expert and Best Beauty Academy of India by Heena Khan (a well-known television artist), has been given to Meribindiya International Academy. Recently, Brand Empower organized the Global Excellence Award 2022, in which Meribindiya International Academy was honored with the Best Beauty & Wellness Training Institute of the Year award.
Well-known Bollywood actor Anupam Kher received the award. Along with this, Meribindiya International Academy is also an academy recognized by ISO, CIDESCO, and the Government of India.
This academy has only one branch, which is located in Noida. Students from all over India come here to learn. In this academy, only 10-12 students are given training in a batch, so students book their seats here 3-4 months in advance. Meribindiya International Academy provides world-class education to students.
How to become a make-up artist after 12th class?
This academy is India's best for courses in Makeup, Beauty Aesthetics, Cosmetology, Eyelash Extension, Hair Extension, Hair, Nails, Skin, Micro blending, and Permanent Makeup. After doing courses from here, you get offers from big brands.
If you want any advice for enrolling in MeriBindiya International Academy, please contact me at the number below.
Address: Shop No – 1, 2nd and 3rd Floor, Sunehri Market, near Sector 18, Atta, Sector 27, Noida, Uttar Pradesh 201301
☎ 8130520472, 9582133349
Meenakshi Dutt Makeup Academy is a well known makeup & hair academy which offers the best professional makeup artist and hairstylist courses.
Address: Delhi, India
☎ 9958600827
Anurag Makeup Mantra Gurukul is the best makeup academy which offers professional makeup & hair courses.
Address: Mumbai, India
☎ 9958600827
What Is The Future Scope After Completing A Course From Sam And Jas Academy?
In the Makeup and Hair course, there are huge opportunities and if you get the certification from a premier institute like Sam and Jas academy, then you don't have to worry much. This academy offers job assurance, that will help you to start your career efficiently.
In addition, Sam and Jas Academy also offers beauty services to the people, so there is also a scope of in-house work. On the off chance, if you want to start your own boss, then you can go with freelancing or can start your own salon.
If you want to work in international makeup & hair industry and want to earn well then you have to pursue an international makeup & hair course. International Beauty Expert (IBE) is an international beauty academy which offers international makeup & hair courses. IBE provides an international internship and international job placement too.
Address: Noida, India
☎ 8595172415
Bottom Line
If you are interested in the fashion industry and want to utilize your skills, then you need to get a makeup certification. Also, you will enhance your skills. For the dual purpose, Sam and Jas academy is best for you. Hence, get yourself enrolled in this academy as Sam and Jas franchise is all over India. Alternatively, Meribindiya Beauty Academy is the most affordable and the best place to get makeup and hair certification course.