Are you looking to do a professional makeup course especially a bridal makeup course? Then this article might be helpful for you to understand and know about the different bridal courses. Institutes, VLCC bridal makeup course fees, structure, and much more information.
Here we will discuss the big brand and famous brand VLCC institute which offers multiple makeup courses.
It has so many branches across the country and all the branches have a professional and skilful trainer who will guide you. The institute is best for the freshers as well where you can learn the art makes up right from the basics and can develop your skills easily. Here you will see what are the different courses for bridal makeup and which course you can opt for.
As not all makeup courses are bridal makeup-oriented courses so if you are interested in the bridal makeup course then you must be very specific while choosing the makeup course. VLCC bridal makeup course is one the most popular course and the brand is well known for its bridal makeup training. Though the fee structure is a little high as compared to the other makeup institutes.
Types of VLCC Bridal Makeup course that VLCC provide
There are mainly two bridal makeup courses that VLCC institute provides and if you opt for any one of these courses you would be able to learn all the art to make any bride beautiful. If you want you can opt for both the courses which is not possible simultaneously but you can take one at a time.
1] Professional diploma in makeup
It is the first bridal makeup course that VLCC offer and the course has so many contents, although it is not an advanced version yet very effective. You will learn everything in detail and start with the important basics.
Meribindiya: An Emerging Bridal Makeup Provider and Top International Beauty School
Fundamental is important for you to understand so you should focus on making your base starting and then move on to the next step. Bridal makeup classes are the best way to gain knowledge, just make sure you do your classes regularly and do not skip any class.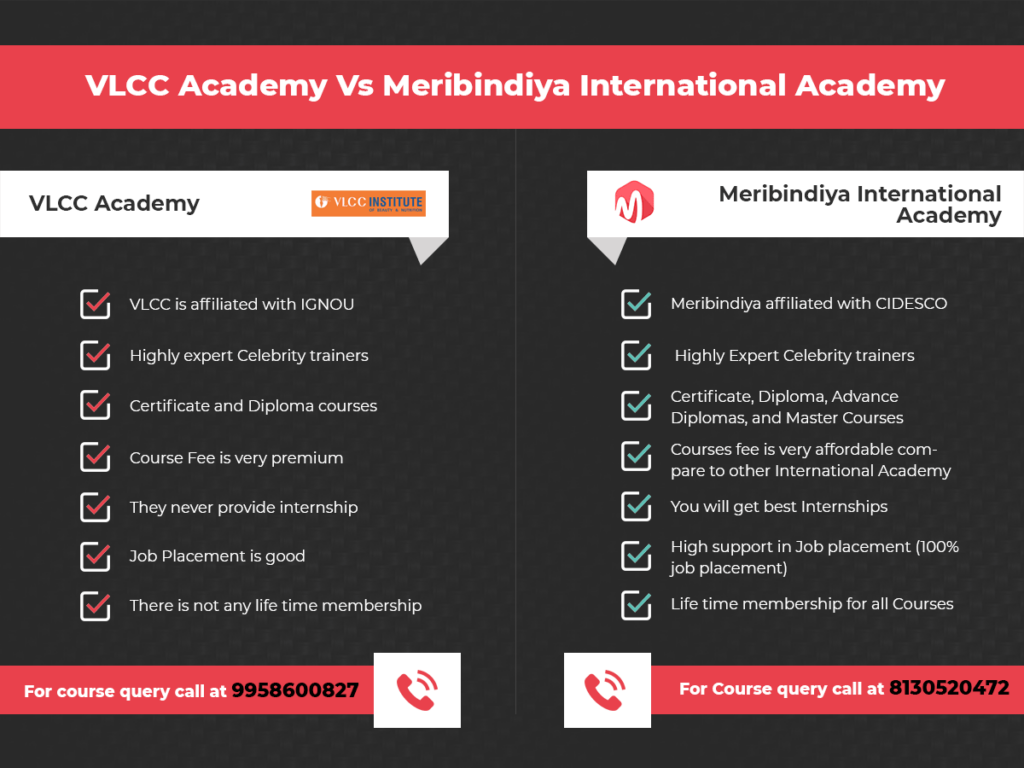 The course includes content such as History of makeup, the importance of makeup, makeup theory, bridal makeup, groom makeup, eye makeup, engagement makeup, reception makeup, royal bridal makeup, and many more.
The duration of this course would be around 361 hours, in other words, it would take between 14-15 days. The eligibility criteria should be at least 8th passed or appeared from any gov. or private school.
2] Advance diploma in cosmetic makeup
Now, this is yet another bridal make up course that VLCC provides which is an advanced version of a diploma in cosmetic makeup. The course duration is less as compared to the previous VLCC course which is good that it won't take much of your time.
The Fee structure might not be the same and may vary from course to curse and the duration of the course. It takes around 78 hours which means 3 days or maybe more than that. The eligibility criteria are pretty much like the previous course that is 8th passed or appeared at least, which is not a big deal.
The course includes the topic such as history, theory, importance, and an advanced diploma in a cosmetic makeup course. Also, it includes the bridal makeup course such as engagement makeup, reception makeup, groom make-up bridal makeup, party make makeup, wedding make-up.
Conclusion
VLCC is a good option for you not only for bridal makeup training but also for other courses as it is a huge brand and has produced some professional makeup artists. Many successful beauticians and makeup artist has done the different course from VLCC institute and they quite successful today.
Not only that but they are earning well and some of them have even got a chance to do the makeover of many Bollywood stars. If you struggle to find them just type bridal makeup classes near me on google and you will get also some other good academies for Bridal makeup course.
Meribindiya International Academy Noida: Meribindiya International Academy is a well known makeup academy and it offers the best bridal makeup courses. Recently, Meribindiya International Academy was awarded by Hina Khan as India's best beauty school. At Meribindiya International Academy, students come from all over India to learn beauty & makeup courses. 
Address: Shop No – 1, 2nd and 3rd Floor, Sunehri Market, near Sector 18, Atta, Sector 27, Noida, Uttar Pradesh 201301
☎ 9582133349
Lakme Academy Delhi: There is no one who has not heard the name of Lakme Academy. This academy offers best bridal makeup artist courses in Delhi NCR.
Address: Delhi, India
☎ 9958600827
Anurag Makeup Mantra Gurukul: This makeup academy is among the top makeup academies which offers best bridal makeup artist courses.
Address: Delhi, India
☎ 9958600827
If you want to work as a bridal makeup artist in foreign countries then you have to pursue an international bridal makeup artist course. International Beauty Expert (IBE) is an international beauty & wellness academy which offers international bridal makeup artist course.
Address: Noida, India
☎ 8595172415
From the career perspective also, it is one of the best institutes where you can do your bridal make course and get placement. As the VLLC institute has its certification and placement program that is run by the management of the institutes. If you can afford the VLCC bridal makeup course fees then you can consider this institute which is worth your money. VLCC would not just be the right choice but also the rich choice.
RECOMMENDED ARTICLES