Aspiration and dream to become a renowned and successful makeup artists can get wings at Lakme Academy Preet Vihar! Learning and becoming a qualified expert in hairstyling and makeup opens up lots of opportunities and career prospects for you. Do you genuinely desire to see yourself working at some international fashion shows or for magazines and media houses? This is the place where you could shape your career with precision!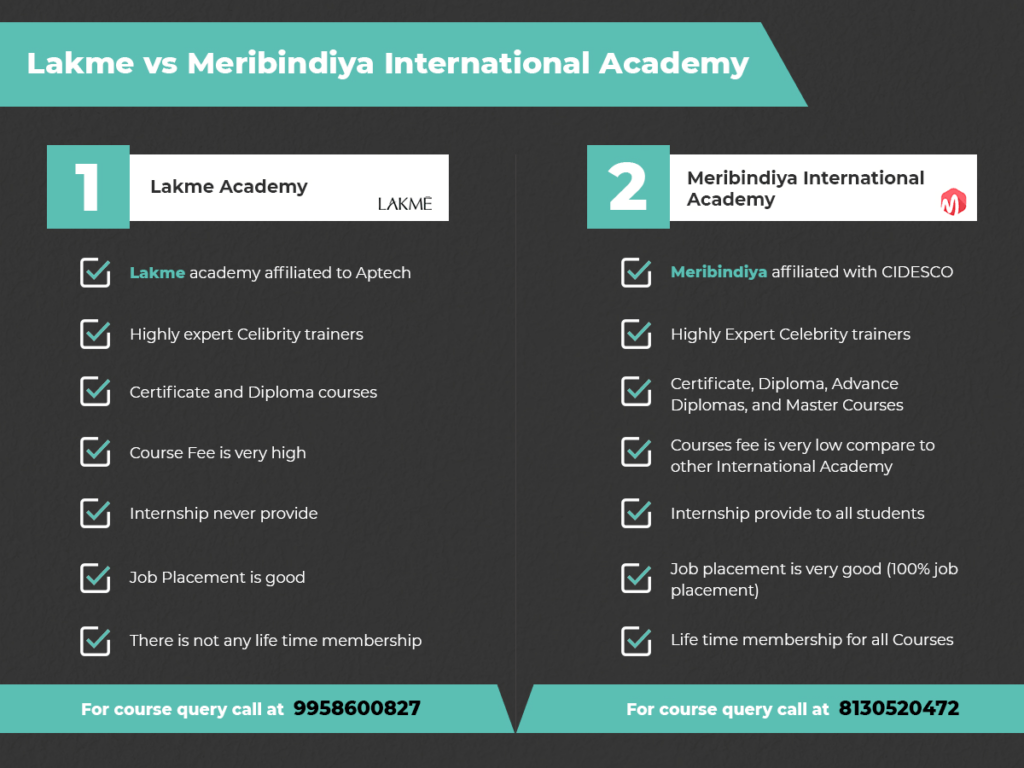 Although there are several makeup classes in Noida, the excellence and expertise that Preet Vihar Lakme Academy offers you are impeccable. Lakme itself a huge brand to associate with, and working with it can take you to enormous growth and prosperity. Beautification is an art, and learning it from top-notch celebrity professionals is an honor in itself. Lakme Academy in Preet Vihar is a renowned cosmetology school where students can gain a wide variety of professional courses that can fetch you good jobs.
There are specialist courses available for beauty, hair, makeup, nail art, cosmetology and other bridal makeup. Connect with this academy and find the best prospects in the beauty industry.
More about Lakme Academy Preet Vihar
Are you in search of the best makeup artist course in Noida? If yes, this is a fantastic platform where you polish your technical makeup skills and learn to be an expert in it. They follow a specific curriculum that focuses on the minutest aspects of makeup and looks. Once you are a certified makeup artist from this academy, there are many working options available such as salons and parlors. Apart from the primary classroom training, you also receive exposure to understand the glamour and beauty industry's smallest aspects.
5 BEST JOB ORIENTED SHORT-TERM COURSES WITH HIGH SALARY AFTER 12TH
Highlights of the best makeup school in Delhi
When you select Lakme Academy Preet Vihar for the best beautician course, there's a lot that you learn about detailed makeup artistry. It enhances your expertise and helps in becoming a professional beautician who can work at media companies, celebrity photo-shoots and even freelance bridal makeup artists. Here are the quick top facts about the Lakme Academy.
Preet Vihar Lakme Academy is the oldest center of Lakme in India.
It offers substantial backstage event exposures, like working with celebrities and models.
In-Depth training by Lakme experts.
Best infrastructure and technical beauty equipment for practical learning
The international standard course curriculum
Dedicated job opportunities
Provides external seminars and workshops for a wider exposure
Loan facility for the students
Admission eligibility
To seek Admission for the best makeup artist course in Noida, you need to complete a basic 10th degree and join in for a bright future in the makeup industry. Just ensure that you have your passing certificate and identity proofs for a smooth admission process.
Courses offered by Lakme Academy
This makeup artist academy in Noida offers you a series of top courses that can educate you about the working of makeup and selecting the right products. Personalized makeup needs a lot of tact, and you can learn all here at Lakme. Courses available at this makeup school in Noida are as follows:
Beauty Therapy course
Cosmetology course
Nail Art
Hairdressing courses
Beauty Parlour course
Makeup course
Bridal makeup course
Airbrush and HD makeup courses
You can also personally check with the Lakme makeup classes in Noida for a detailed course list and the Lakme makeup course fees. Aptech powered Lakme institute signifies an epitome of excellence as you can avail mastery in makeup art and beauty.
Placement opportunities
Lakme is the best makeup artist academy in Noida. You can discover the hidden talent in you and register your name amongst the top artists and professionals from various beauty industry facets. There are basic and advanced level courses to help you gradually becoming a top beautician. As per the beauty industry's recent market trends, you can learn makeup, hairstyling, and even nail art. They also guide you with 100% placement security as top salons, parlors and beauty houses welcome you after certification from them. Large pay scale, secured jobs and brighter prospects to commence your own beautification business are amongst few lucrative choices. If you dream of deriving exponential success in career, Lakme training can offer it all.
Fees structure and course duration
Due to very high teaching standards, even the Lakme beautician course fees are slightly on the higher side but not very heavy on your pockets. You can enroll for the 6-month Advanced course in beauty therapy or a 12-month course to learn cosmetology. It is also advisable to see the 6-month advanced dressing and hairstyling course. Other options you can choose are a 2-month advanced makeup course or an instant 5-day Airbrush makeup course. Depending on the duration and level of expertise they provide, a makeup artist in Noida fees also varies. You can also enroll here for self-grooming, or basic styling courses that are quite reasonable, such as classic or creative hair cuts course, corporate makeup course, and bridal make up as well.
DIPLOMA IN MAKEUP AND HAIRSTYLING COURSE – COURSE DETAILS, CAREER SCOPE
There are several other courses of long and short duration for which the fees vary widely. They are stated below as follows:
3-month course for Foundation Course in Beauty Therapy
3-month course for Foundation Course in Make-Up
Personal styling and grooming course for 12-days
Saree draping course for 4-days
Hair color and hairstyling courses for 5-6 days
Address and contact details
You can visit Lakme Academy Preet Vihar at the following address for further assistance and course details:
4, Parkend, Main Vikas Marg, Preet Vihar, New Delhi, Delhi-NCR, India- 110092.
You can also connect with them at the registered Web address on http://www.lakme-academy.com.
Top Beauty Schools In Delhi NCR
We will recommend Delhi NCR's top 5 academies. These academies offer proper certification with professional training. In this list, the first rank holder is Meribindiya International Academy as they are offering many courses for freshers. They also provide CIDESCO certification. They have separate courses for Skin and Makeup, Hair, Nail art, Salon management. This academy has a considerable reputation in India. They have training centres in Noida.
If you want to work in international beauty industry then you have to pursue an international beauty course. International Beauty Expert (IBE) is an international beauty academy which offers international beauty courses. IBE provides an international internship and international job placement too.
Address: Noida, India
☎ 8595172415
We are recommending all above academies for freshers who want to learn makeup art in details with valid certifications.
Wrap up
Now you are well-aware of the avenues and prospects available after taking up the professional makeup artist course in Noida at Lakme Academy Preet Vihar. You can receive excellent training, professional guidance and mind-blowing techniques to become a leading makeup artist. Pep up to develop a polished skill set for aspiring students who want to be the leading makeup artists. If you thoroughly wish to start your career with a fling, Lakme Academy in Preet Vihar is the best place, to begin with.
RECOMMENDED ARTICLES