Lash extensions are semi-permanent, synthetic, faux mink or silk fibers. These are applied strand by strand with specially planned non-irritating glue to your lashes to enhance your eye shape. They glue those to your natural lashes to make them appear longer, thicker, and darker. The goal of lash extensions is to give the eyes a made-up appearance with no use of mascara or other eye makeup.
Lash Extension Course
It builds a foundation for a prosperous lash extension career & gets listed on the Lash Stylist Directory. In lash extension training, Nail Mantra Provides the basics, core techniques, and business-building methods. This is necessary to become a prosperous Extreme Lashes Stylist.
As part of this intensive Eyelash extension course, they teach you how to apply multiple lashes. And also teach each natural lash handcrafting 2D, 3D, 4D fans. This is to provide your clients with a beautiful look, being as subtle or glamorous as even dramatic whenever they wish!
Eyelash courses are gaining popularity, especially among celebrities. With this eyelash extension course, your skills will reach the next level. Your clients will love it, and in just a few weeks, your bookings will increase when they learn about your lash versatility.
Success doesn't come and find a person. One has to GO and GET IT! Getting excellent lash classes near me or trainers can make all the difference. Nail Mantra is a professionally equipped, excellent trainer in this industry.
Must Read: How To Become A Eyelash Technician In India.
Varieties Of Eyelash Extension Classes
False lashes comprise acrylic resin. However, over time, the materials improved. And, nowadays, false lashes contain a polymer fiber material, polybutylene terephthalate (PBT). PBT after heating, molded into the desired lash shape. Lashes that contain this material; are too strong and have a natural glossy sheen. They also keep their curl better.
False eyelashes and semi-permanent eyelash extensions significantly enhance the length and volume of eyelashes. Although they differ in various ways.
Hybrid lashes are classic lashes and volume fan lashes mixed. However, Volume lashes are very thin eyelash extensions that make a fan shape. This allows for a look of full fluffy lashes. For information, Mega volume eyelashes are super-thin eyelashes.
Worth Reading: 5 Best Academies In Delhi NCR To Learn Eyelash Extensions Course
Pre-made fans are ready-made volume eyelash extensions. Moreover, we arranged them on the sticker strip for easy pickup and quick application. Lash classes near me can provide all the technicality regarding the applications.
Nail Mantra, the best lash extension training near me will provide you the knowledge about Hybrid lashes which involve classic individual eyelash extensions and volume fans mixed to create the ultimate in fluffy, textured lashes. But, as a mixed set, they offer a thicker, denser look than classic lashes, but without the uniformity and softness of a typical Russian volume set.
Similar Article: Nail Technician Diploma Course | Nail Artist Course Fee, Duration, Course covers
Eyelash Extensions Course
Nail Mantra's Eyelash Extensions Course teaches you the popular technique used by many, to enhance the eyes with synthetic extensions to give the appearance of longer, thicker natural lashes. Not only you will learn; how correctly to apply and remove lash extensions, but you will also learn how accurately adapt the application process to the client's particular eyes shapes for the desired effect.
While undergoing the lash certification classes near me, one will carry out treatments in a professional training mannequin head, allowing them the maximum possible time to gain the skills and work on their own technique.
Must Read: Become a certified Nail Technician – Course Details, Admission, Eligibility, Syllabus, Jobs & Salary
What Nail Mantra Lash Classes Near Me Covers?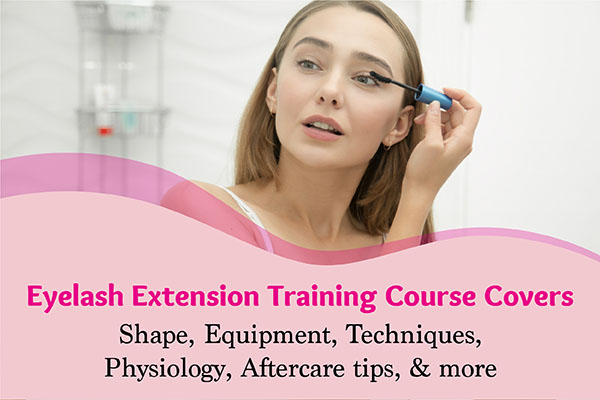 Course structure- What are to be taught
Starter Kits- Equipment required
Where can I study this course? – Nearest location
How to book your place- Taking a required square area
Ways to Pay- The mode of payments
Lash Extension Course benefits- Social and materialistic benefits
Similar Topic: Best Beauty School For Eyelash Extension Training in India
Eligibility Criteria/ Course Entry Requirements
Nail Mantra's credential courses are appropriate for complete beginners and don't need any previous learning to coach with them. Several of their students are beauty trained and are trying to begin up a business within the business. Nail Mantra welcomes the students whether you're trying to be told a replacement talent from scratch or presently operating as a healer and searching to refresh your information of specific treatments.
There is no ought to take away eyelash extension classes or make-up before attending the course, as you'll work upon knowledgeable coaching (mannequin) head to realize and show your sensible skills. No kit is important to complete this course, and that Nail Mantra embraces no kits, etc. with the course fee.
Nail Mantra offers you all the products/ tools needed to complete the coaching day after you attend the coaching center.
You May Like: Lakme Academy Nail Art Course, Fee, Duration, Syllabus
Why Choose The Eyelash Extension Classes?
All the diploma courses enable you to work from home and mobile by offering specialized treatment(s). You can start earning by offering treatments to paying clients as soon as you have got your insurance. You could work solely as a Lash Technician, providing lash extension treatments mobile, or establish a treatment area at home.
Alternatively, you may like to look at further courses such as the Highly Defined Brows Course or Facial Massage & Skincare Program to enable you to provide a range of facial enhancement treatments.
What Will Your Career Opportunities Be?
All of Nail Mantra's diploma courses enable you to work from both home and mobile offering the specialized treatment(s) that you have completed. You can start earning by offering treatments to paying clients as soon as you have got your lash certification classes near me.
Must Read: How To Start A Nail Salon Business in India?
You could easily work solely as a Lash Technician providing only lash extension treatments over the internet or establish a treatment center at home. Alternatively, you may like to look at further courses such as the Highly Defined Brows Course or Facial Massage & Skincare course to enable you to provide a range of beauty enhancement treatments.