Leena Bhushan is one of the most popular makeup artists in Noida. Delhi NCR region. Leena is known as a freelance renowned makeup artist and she does her work proficiently. The Leena Bhushan Makeup Artist can make an individual beautiful, glamorous, and attractive with her skills. Leena Bhushan is providing her doorstep services as a freelance make-up artist who is also running the courses to provide the best hand in training to the people who want to make a bright career in the beauty industry.
Here, we will talk about the face stories by Leena Bhushan, Leena Bhushan makeup academy, Leena Bhushan makeup course fees, courses offered by them, and many other details.
Face Stories By Leena Bhushan
Let's discuss the face stories of Leela Bhushan Makeup Artists.
She is a big name in Delhi-NCR. If someone is looking for all bridal makeover needs, then Leena Bhushan makeup artists are the best option. She, with her team, is capable of doing all kinds of bridal makeups.
The team led by Leena Bhushan earned name and fame in Delhi-NCR. They are very popular. Face Stories by Leena Bhushan confirms that; "you look beautiful and attractive while walking in the mandap."
Every girl wants to look stunning especially in Wedding celebrations and professional makeup artists are required to fulfill such desires. After Meribindiya Freelance Makeup Artist, Leena Bhushan is well known for giving fabulous looks to an individual by makeup.
Services Offered at Leena Bhusan Makeup Academy
Leena Bhushan makeup artist is proficient in giving all types of services starting from pre-wedding to the wedding and post-wedding functions.
She travels across cities as per the demand of her clients and provides amazing services. According to records and experiences, she is trustworthy. She is working since 2013 and provides the best makeup services to her clients and training to their students.
Sephora, Mac, Naked, Huda, etc. are the best brands used by Leena during their makeup services. Also, she uses the same top makeup brands to give a better sense of understanding to their students in her academy.
Face Stories by Leena Bhushan provides plenty of services regarding the makeup of face and hair.
The services offered by Leena Bhushan and her team are given below:
HD make-up
Regular make-up
Hair Styling
Air Brush make-up
Party make-up (for pre-weddings and post-weddings)
Friends and family make-up
Hair Extensions
Makeup service at the venue
Eyelashes
Shampoo
Draping
Nails
Working Style of Leena Bhusan
They treasure using good international cosmetic brands for the skin. They use good quality products with a view to safety and hygiene. Leena and her team have expertise in fulfilling the expectations of her clients as they have good knowledge about subtle makeup and glamorous makeup.
Inspiring from the scenario, she provides the best makeup training at her academy situated in the Delhi NCR region.
Collages Offering Makeup Course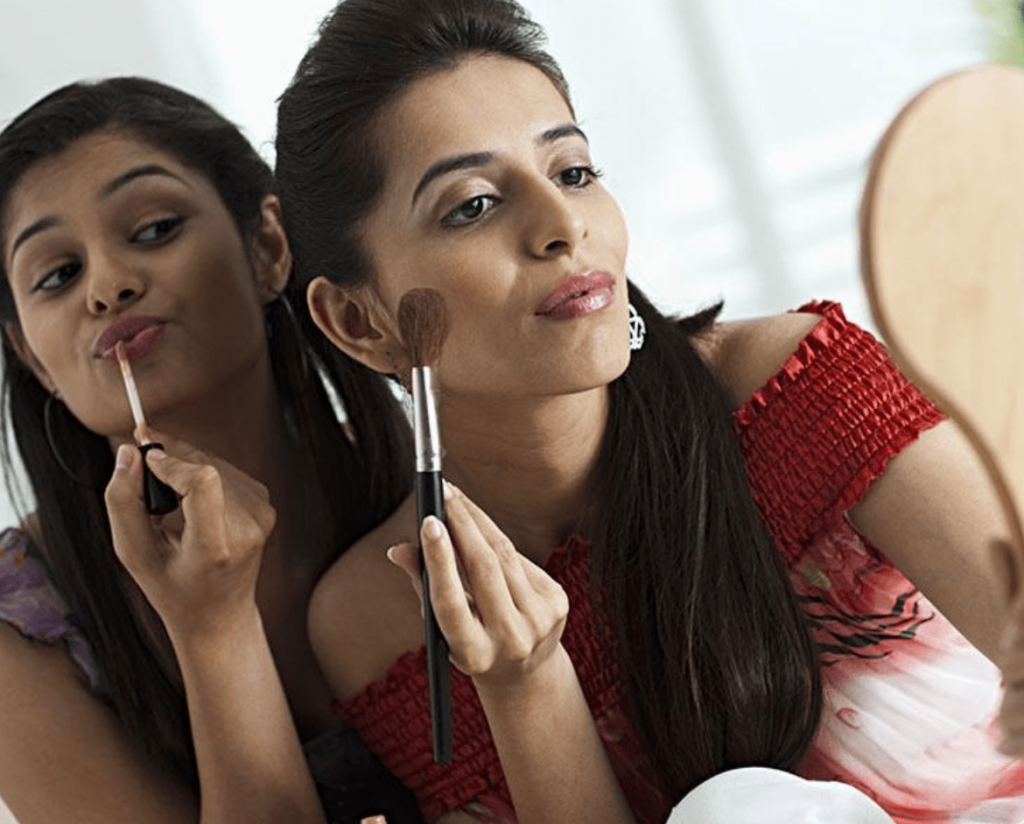 There are various colleges offering makeup artist courses in Noida and Delhi-NCR such as Meribindiya International Academy, Jawed Habib, Lakme Academy, Pearl Academy, VLCC Academy in Noida, Orane International School of Beauty & Wellness, etc. To compete with them, Leena Bhusan's makeup courses aren't behind the race.
Leena Bhusan Academy offers various courses. Out of which, a few are given below:-
Diploma in Skin and hair
Certification in Cosmetology
Short Term Makeup Courses
Basic Makeup Training
Advanced Certification
Short-term courses to beginners in Nail Art, Spa Therapy, Skin Care, and more.
Beauty & Skin Care
Cosmetology
Full Body and Hair Spa
Undergraduate Certification
Postgraduate Certification
Professional development courses
Makeover courses in Delhi
Makeup Courses Offered By Leena Bhushan Academy
You can choose a beauty course at Leena Bhushan makeup academy depending on the time you wish to invest in it. Not only this, they provide Certificate courses in;
Hair
Beauty
Makeup
Spa
Cosmetology
Nutrition
An individual can make a carrier by joining Leena Bhushan makeup classes.
If someone wants to make a carrier that varies from a beautician or hairstylist or a makeup artist, or want to open your beauty salon, these best makeup artist colleges in Delhi will help to scale great heights in this industry. You just need to grab their exclusive offers and get started with the best makeup artist course in Delhi.
Price Of Leena Bhushan Makeup
The cost of engagement makeup is INR 45000+ and her bridal makeup cost is near about INR 75000. The team of Leena Bhushan makeup artists got lots of fame and love from their clients because of perfection in their work. Forever 52 is the makeup product launched in the name of Leena Bhushan. Leena Bhushan makeup artists accept cash and online payments through Net banking.
Leena Bhushan Makeup Course Fees
With their makeup service charges, you can get an idea of how experienced their team would be. Based on that, if we talk about Leena Bhushan Makeup courses fees, it may cost you around 1 Lakh rupees in India.
Other Best Institute for Makeup Course: Meribindiya International Academy
Top Three Makeup Academies in India
Meribindiya International Academy in Noida is famous for Bridal Makeup services. It is one of the prominent Institutes as well that provides beauty training in India.
It offers various diploma courses for makeup at modest fees. Various professionals had been trained from Meribindiya. Hence Meribindiya is not only an academy, it is well known for providing makeup services also.
Meribindiya provides makeup courses for engagement, Anniversary, Party, Photoshoot, Reception, etc. Classes are provided by famous celebrity makeup artists with a view to the candidate's job placement. Meribindiya International Academy had produced various Professionals and support staff till now. These trend staffs are proficient in the latest trends, tips, and technologies.
Address: 2nd Floor, Veer Singh Palace, Near Sector 18 Metro Station, Behind Vinayak Hospital, Sector 27, Noida
☎ 8130520472

2. Meenakshi Dutt Makeup Academy is among the top 5 makeup academies in India. This makeup academy offers best makeup artist courses.
Address: Delhi, India
☎ 9958600827

3. Anurag Makeup Mantra Gurukul is among the top makeup academies which offers makeup artist courses in Delhi NCR.
Address: Delhi, India
☎ 9958600827






If you want to work in abroad as a makeup artist then you have to pursue an international makeup artist course. International Beauty Expert (IBE) is one and only international beauty & wellness academy which offers international makeup artist course.
Address: Noida, India
☎ 8595172415