We all are aware of unemployment issues in the world. We need to understand now; if we want to make a stable career, we have to choose career-oriented courses. So let's discuss some short term job oriented courses after 12 th.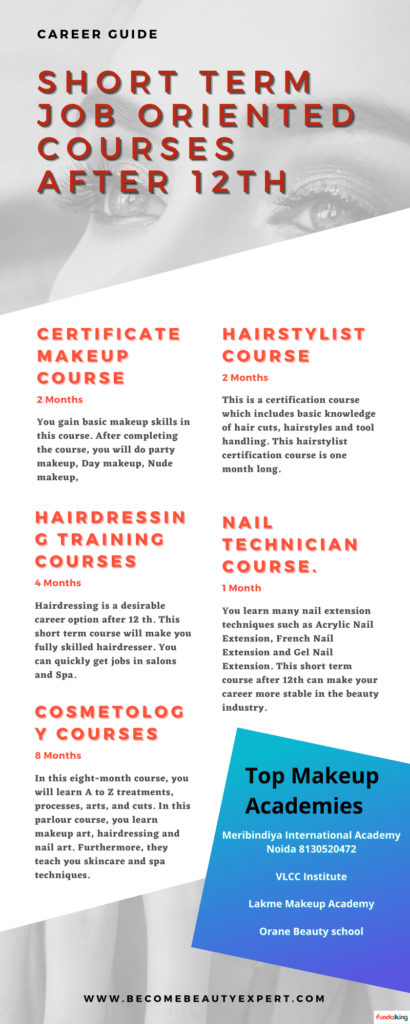 Short Term Job Oriented Courses
Certificate Makeup Course
After 12th you can join certification courses. These makeup certificate courses are 1 or 2 months long. You gain basic to advance makeup skills in this course. After completing the course, you will do party makeup, Day makeup, Nude makeup, festival makeup and some more makeup types.
In addition to these makeup types, you will gain product knowledge. This product knowledge makes you capable of delivering high-quality makeup results.
Certification makeup course develops Contouring, Highlighting, Blusher and Eye Shadow Application skills into the students. Therefore students get strong foundation skills in the industry. You can start a job or own services after completing this makeup certification course.
Hairstylist course
After 12th, you can become a hairstylist. You have to join the hairstylist course to become one. This is a certification course which includes basic knowledge of hair cuts, hairstyles and tool handling.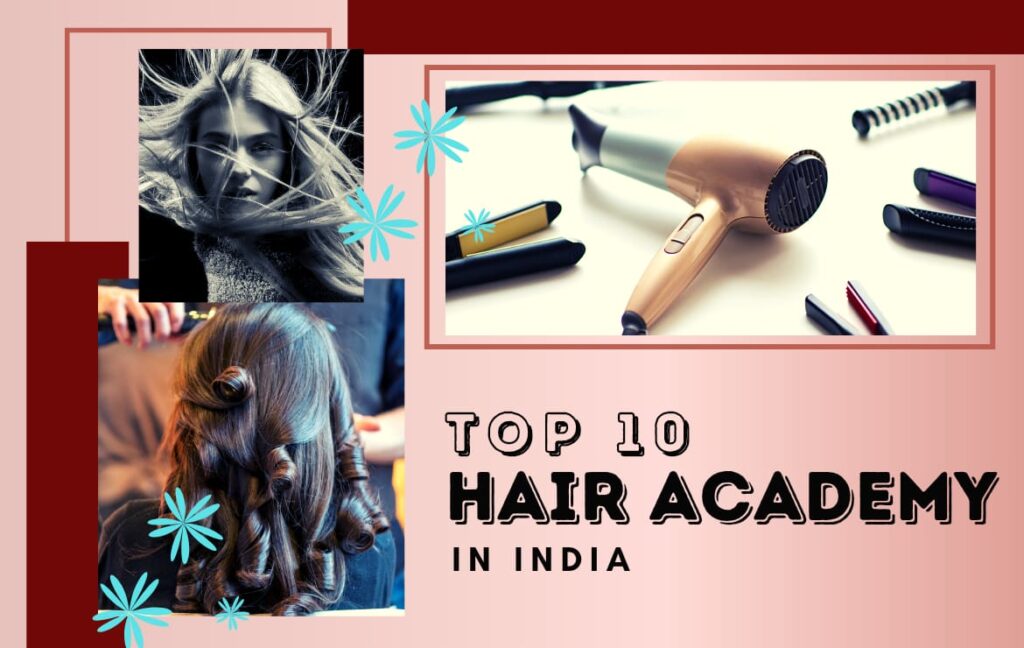 This hairstylist certification course is one month long. This course is available at many best hairstyle course academies in Delhi.
How to be a Certified Professional Hairdresser? – Skills, Education, and Opportunities!
These courses give you basic abilities to perform hair cuts such as western cuts, Indian cuts, and Asian hair cuts. You learn many hairstyles for different occasions. You learn bridal buns and vintage buns.
They train you to perform incurs, out curls. After completing this course, you can join salons or start your service in nearby areas. You can easily earn 25000 to 45000 per month. Hence this one is an excellent short term course to do after 12th.
Hairdressing Training courses
Hairdressing is a desirable career option after 12 th. This short term course will make you fully skilled hairdresser. You can quickly get jobs in salons and Spa. People can start their salon beside this you can offer other hair treatment or makeup services.
Things you learn in this course
Hair cuts
Buns, braids & other hairstyles
Hair extension
Advance hair colouring
Hair spa
product and machine knowledge
These courses also give you complete knowledge of hair settings like curling, smoothing, ironing, blow-drying, and proper machine handling skills.
You learn haircuts and spa techniques. After completing this course, you can work in salons, Spa and fashion houses. You can earn money by starting your salon. Therefore we can say this is the best career-oriented short term course to do after 12th.
Nail technician course
There are very few makeup academies who offer courses for nail technicians. Nail technician course is highly career-oriented. You will learn
Brush Nail Art
3D – Nail Art
Glitters Nail Art
Deep Conditioning Treatment
Stone Nail Art
Dotting Nail Art
Apart from this, you get knowledge of nail removing, nail refilling. And they teach you many types of nail extensions in this nail art course.
Become a certified Nail Technician – Course Details, Admission, Eligibility, Syllabus, Jobs & Salary
You learn many nail extension techniques such as Acrylic Nail Extension, French Nail Extension and Gel Nail Extension. This short term course after 12th can make your career more stable in the beauty industry.
Cosmetology courses
If you want to pursue short term course after 12th, you can choose a beauty parlour course. This course is also called a cosmetology course. In this eight-month course, you will learn A to Z treatments, processes, arts, and cuts. In this parlour course, you learn makeup art, hairdressing and nail art. Furthermore, they teach you skincare and spa techniques.
This course will make you an expert in parkour, spa and salon operations. You will get quality jobs in Salons after completing this course. The cosmetology certification course is a very high-value beauty course. You get internationally accepted CIDESCOo and VTCT certifications in top beauty academies in Delhi.
Wrapping up
So dear readers, we hope you got valuable career options after 12th. In this article, we tried to explain the few best short term career options after 12th. These courses are available in Delhi.
We will recommend a few best makeup academies. You can contact these academies to get more information about the course and certifications. We wish you a very bright future in the beauty industry. We know you will shine one day!
RECOMMENDED ARTICLES