Do you want to join the VLCC cosmetology course? Are you curious about the cosmetology course & fee? Then let's take a brief insight into the cosmetology course.
Diploma in cosmetology VLCC
Before we jump to the Vlcc cosmetology course fee, we will understand what they teach. In the first phase of this, an 8-month course will be a skin course you learn the basics of skincare and treatments. This course includes facials like O3, Gold, and essential. You master bleaches and threading. After this, you have to go through theories like skin types, personal grooming, and salon management.
In the second part, you gain hair care skills. Treatments like Kera, grey coverage, deep conditioning will be there in the syllabus. Machine Knowledge will make you an expert in Crimping, Ironing, Blow Dry. This course also includes Heena application, hair cuts, and some more advance hair treatments.
The third phase makes you a makeup expert. This phase of the VLCC cosmetology course will teach you product theory, skin tone and makeup shades, brush knowledge, and basic makeup concepts. You learn the following types of makeup artists in the VLCC beautician course.
Different Types Of Eye Makeup
Nude Makeup / Corporate Makeup
Party Makeup
Night Party Makeup
Festival Makeup
Engagement Makeup
If we decide to assume a diploma in cosmetology VLCC fees, we can say it will be around 1 lac Rupees. This course will eight-month-long. You can click on the button below to know the exact fees for the cosmetology course. Cosmetology training fee can vary with course nature, duration and academy.
Advance Diploma in cosmetology VLCC
The advance diploma in cosmetology VLCC fee will be higher than the certificate. This course is 12 to 15 months long. In this beautician course at VLCC, you learn all the treatments mentioned above and theories. We can say you first discover an entire diploma course, and then you learn additional skills.
In advance diploma for cosmetology, VLCC institute will teach you some very advanced skin hair and makeup treatments. You will learn to use modern machines and products. An advanced cosmetology diploma can make you an expert in the beauty industry.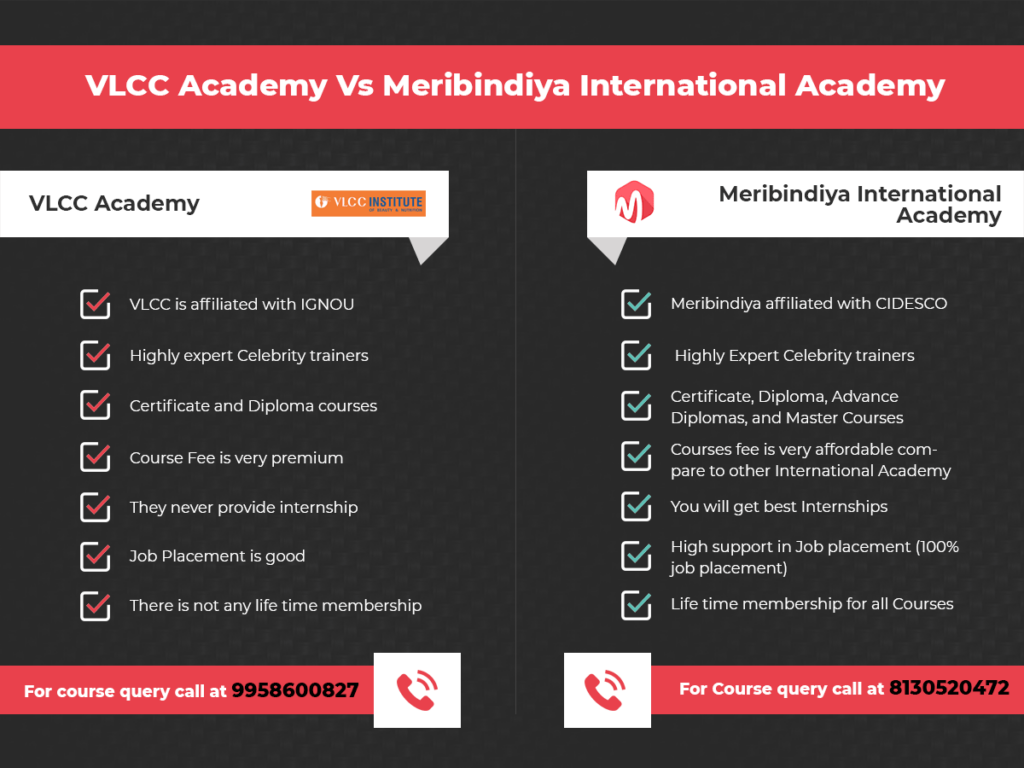 You learn foundation courses of makeup, skin, and hair; then, you will learn advanced techniques with nail extension and nail arts. This cosmetology course will make you an expert beautician; Advance diploma in cosmetology VLCC fees are above 3 lac Rupees. To know the exact fee and details, you can click on the button below.
VLCC Beautician Course
IF you want to become a beautician, you can choose a certification course at VLCC. This beautician course fee is less than a cosmetology diploma. This is a certification level course, and you gain basic knowledge of skin and hair.
You will learn threading, waxing, polishing, besides many types of facials. Afterwards, you gain knowledge of hair cuts, hairstyles, shampoo, conditioning, and treatments. VLCC cosmetology and beautician courses are very advanced and valuable. VLCC beautician course fee is less. Hence you will able to start your career as a beautician with the VLCC beautician course.
Top Five Academies Which Offers Cosmetology Course
Here is the list of top five beauty and wellness academies which offers cosmetology course.
Meribindiya International Academy: Meribindiya International Academy is among the best beauty academies in Delhi NCR. Meribindiya International Academy offers you the best cosmetology courses. Recently, Meribindiya International Academy was awarded by Hina Khan as India's best beauty school. At Meribindiya International Academy, students come from all over India to learn beauty & makeup courses. 
Address: 2nd Floor, Veer Singh Palace, Near Sector 18 Metro Station, Behind Vinayak Hospital, Sector 27, Noida
☎ 8130520472
VLCC Academy: This beauty school is the best to pursue a cosmetology course.
Address: Delhi, India
☎ 9958600827
Orane International Academy: Orane International Academy is a beauty school which offers cosmetology courses.
Address: Delhi, India
☎ 9958600827
Pearl Academy: This beauty school is among the top beauty academies which offers cosmetology courses in Delhi NCR.
Address: Delhi, India
☎ 9958600827
Shahnaz Husain Beauty Academy: Shahnaz Husain Beauty Academy is a beauty school which offers makeup artist courses.
Address: Delhi, India
☎ 9958600827
VLCC Cosmetology Course Fee Structure
VLCC cosmetology course fee and beautician course fee include tuition fees, kit charges, certification charges, and photo-shoots. You can contact VLCC institute to gait more in-detail fee structure and instalment plans. You can get installment facility at VLCC institute. Talk with executives of the VLCC institute for more knowldge about cosmetology course fee.
If you want to earn well as an international cosmetologist in abroad then you have to pursue an international cosmetology course. International Beauty Expert (IBE) is an international beauty & wellness academies which offers international cosmetologist courses. You will get international internships and international job placements at IBE.
Address: Noida, India
☎ 8595172415
Conclusion
At become beauty expert blog, we always try our best to bring important information related to beauty and makeup courses. VLCC is a reputed institute in Delhi. Their courses are worth their fees.
RECOMMENDED ARTICLES